Post by smonch on Apr 22, 2013 12:01:27 GMT -5
In January of 1985, in a small suburb in Barcelona, Marc Gasol Sáez was born to Agustí Gasol, Marisa Sáez. They had already one son, a boy named Pau, who at 4 years old, was already 6 feet tall; destined for basketball greatness.
Marc was a simple boy growing up, who liked running with bulls, and playing with Salvador Dali logs (Lincoln logs to the American child). He was always in Pau's shadow, from academics, to athletics, to the love of his parents. Pau was winning spelling bees and basketball medals, while Marc was in the sandbox burying the feces of the family cat Meme.
As Pau continued to shine in all fields aspiring to follow in their parents footsteps of being a doctor, but with his freakish size (now standing 6'6 at 8 years old) he wanted to follow in the footsteps of the "Dream Team" he watched on television in Barcelona during the '92 Olympics. Marc loved his brother, but wanted nothing more than for him to leave so he could have the love and affection of his parents all to himself.
By 1998, Pau agreed to join FC Barcelons to Marc's delight. He was a budding middle school star himself, but having played in the same school district as Pau, never lived up the hype of being a Gasol Sáez boy. Pau struggled his first year on the senior team for FC, and Marc enjoyed watching his brother struggle:
The next few years were critical to the development of Marc's basketball game. For starters, he went from 4'5 at age 12 to 6'9 by 13. On his middle-school team, he went from being the 3rd string point guard to the starting center just because he was so much freackin' taller than everyone. In 2000, his freshman year of college (the US equivalent of High-School) he averaged 30 points a game, and was being recruited by Junior squads to advance his basketball career.
That same year was Pau's finest as a pro, where he averaged 13 points a game in just 24 minutes, leading Barcelona to the Spanish National Cup and was named MVP of the tournament. He entered his name into the NBA draft, where he could play alongside the greatest talent in the world. He was selected third overall by the Atlanta Hawks who immediately traded him to the freshly-relocated Memphis Grizzles. Marc still despised Pau for uprooting their family to move to the US, abandoning all of Marc's childhood friends, and budding basketball career of his own.
Memphis was a tough time for Marc; watching his brother flourish in his rookie year in the NBA, to struggling to adapt to the US and how unfundamentally everyone plays. After he graduated high school, he was being recruited by many major US college programs but instead opted to move back to Spain to pursue a professional career overseas. He decided to sign with FC Barcelona just like Pau had done to prove how much more of a dominant player he was. That didnt go as planned as he barely saw the floor and Barcelona had a miserable season. He contemplated giving up his miserable basketball career until Akasvayu Girona gave him an offer he couldn't refuse, "Help us, we need a big 7'1 center to make us feel relevant!"
The next 2 years revitalized his passion for the game as in 2008 he was named ACB MVP and he starting getting calls from confidants about his NBA prospects. He was told he could be a lotto pick, maybe even selected higher than Pau! Some scouts and doctors even told him that he could have a better long-term career than #1 prospect Greg Oden! Weeks before the draft, false reports came out that Marc's love for Spain could keep him from ever playing in the NBA, so interest began to dry up for the now 7-foot younger Gasol.
After an antagonizing 2 hours, Marc was finally selected by one of the most historic teams in the entire league, the LA Lakers! He was so excited he began working on a buyout from Akasvayu Girona that evening. Girona refused to let him walk away without serious compensation, to the tune of 100-million....dollars! The Lakers scoffed at that idea, having spent all of their money on an extension for superstar Kobe Bryant that dried up any and all surplus that could have gone to bringing Marc over the pond went to the face of the franchise. Reality had set in, Marc had to play out the rest of his contract before he could come back to the US.
It took 2 more years, and less than 6 months before he was set to sign the contract of his dreams, he was traded. Of all the teams that he could have been dealt to, it was the Memphis Grizzles. He was traded (along with a bag of crap) for his long time nemesis, and older brother, Pau. Grizzles owners wanted Fans to be able to recycle their Gasol jerseys, so they brought in the next best thing.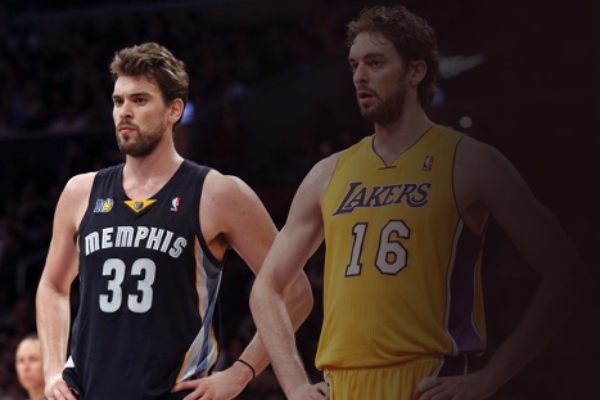 Marc worst nightmare had come true. He was back in Pau's shadow. Every basket, every assist, every rebound, would be scrutinized by the Grizzles faithful to his brother. Even Marc's charity work cannot match up to Pau, who had his own charity in Memphis, would be comapred. For now Pau is the superior one, but Marc has put Pau on notice, and he is public enemy #1 to Marc.